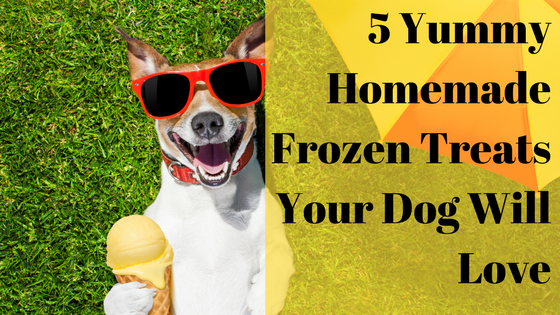 Summertime is all about keeping cool. Whip up these frozen treats for your pet this summer.
This summertime treat calls for two cooked and sliced chicken breasts, two cups of water and one tablespoon of dried parsley. First, divide up your chicken into disposable cups, with about ¼ cup of chicken in each. Next, in a small bowl, mix your water and parsley. Divide up your mixture into the cups, about ½ cup in each. Freeze for around eight hours until the pops are set. To remove from the cup molds you may need to run warm water around the outside of the cup. This recipe should make four chicken pops for your pup.
Equal parts tasty treat and clever game, this frozen dog treat is sure to keep your pup cool this summer. You'll need a bundt cake pan (silicone works best), water, peanut butter, flax seeds and mixed berries. Simply blend together your ingredients, pour into your pan and freeze. When it's frozen just pop it out and give it to your dog to gnaw on. We can't say this won't cause a mess, but we can give you tips for cleaning up pet messes. It's best to let your pup enjoy this frozen snack outside.
For this cool treat after a day at the dog park you will need one cup of watermelon and one cup of ice cubes. Blend the two together until smooth and then pour the mixture into a freezable toy, like a Zogo Flex or KONG. When frozen, just toss to your pup to enjoy.  
This frozen treat also packs a healthy punch, as pumpkin is good for your dog's digestive tract. The pet experts from Rover say to blend a can of pumpkin, with yogurt, a banana and honey to make this dog treat. Next, pour your mixture into ice cube molds, freeze, and share with your dog once frozen.

You're not the only one who likes frozen yogurt. Whip together this easy frozen dog-friendly snack recipe and you'll have enough treats to last all summer. Start with four cups of yogurt, these can be plain, flavored, fat-free, it's up to you. You'll also need ½ cup of creamy peanut butter, 2 tablespoons of honey and one ripe, mashed, banana.
When you're ready, melt your peanut butter in the microwave, about 30-seconds. Next, place all of your ingredients in a blender, and mix until smooth. Pour your mixture into ice cube trays and freeze until firm. And there you have it, frozen treats!