Starting out on your own? Here is our list of must-have kitchen items for your new apartment home. When it comes to Houston living or even just finding pet friendly apartments in Houston, we're here to help.

These kitchen essentials are great for stocking your own kitchen but they also make a great gift idea for people who like to be in their kitchen. Bakers? The "chef" of the family? All of these items will make them smile. Start your holiday shopping early with this collection of top 10 kitchen must haves!
When you head out into your first apartment or home it is hard to know what you'll actually need when it comes to everyday life and that is never more evident than when you try to make your first few meals. Everything seems to be missing!
All of the items on this list are a great place to start if you are looking to stock your kitchen to avoid those cooking and baking pitfalls.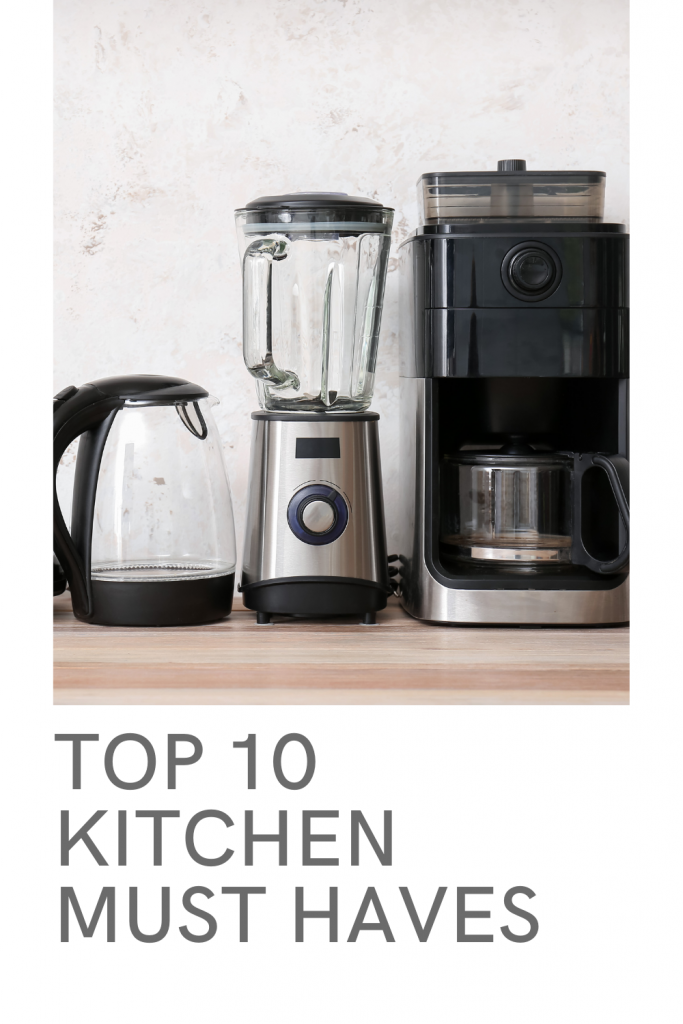 Kitchen Essentials & Must Have Gadgets:
Okay, let's get back to the task at hand…stocking the kitchen with must-have items and gadgets. Some of these will be "duh, of course I need that" kinds of things but hopefully a few are items that never occurred to you!
You'll need a quality knife. You don't need tons of knives, you just need one or two good ones that you really like. This great chef knife is a versatile knife that can be used for cleaning meat, prepping veggies, and so much more. It's a great multi-purpose knife to have in your drawer!
Using a metal spatula means that you don't have to worry about melting plastic, having the dishwasher ruin it, and breaking is a non-issue. This metal spatula is a great option for everything from breakfast to dinner recipes. It's great for flipping pancakes and scooping cookies. It can do it all and it'll last forever!
These silicone spatulas or rubber scrapers are a great option for doing all the mixing, folding (FOLD IN THE CHEESE, DAVID), and scraping bowls and pans when you are cooking and baking. They're great for all kinds of breakfast dishes as well…hello scrambled eggs! Silicone is heat resistant and easy to clean by hand or in the dishwasher too which makes them even nicer to have in your kitchen!
You'll find that when you need a whisk…you need a whisk. There's not much that will take the place of a whisk so don't be caught without one! They're easy to grab at the store and a medium sized one will handle all your cooking and baking needs!
There's nothing more versatile in the kitchen than some tongs. You can use them while grilling, making meats, and even while baking. They're a great addition to any kitchen and they make life so much easier. No need to stab your ingredients with forks to flip them! You can stay a safe distance from the heat with these tongs for cooking and baking.
Nothing is more important in the kitchen than food safety! Make sure that all your ingredients are cooked to the proper temperature with this instant read thermometer. It's a great way to make sure that everything is cooked properly (and safely) before you serve it up to friends and family!
Cast iron is a great investment to make. There is a little bit of a learning curve when learning to cook all different kinds of food in cast iron skillets but they last forever and they're able to cook so many different meals. You can bake in them, fry things, and they are way less maintenance than you think! They hold up so much better and for longer than non-stick skillets!
When making everything from vegetables to pasta and soup you'll need a saucepan. Get a large one if you think you can't get multiple sizes. You can always cook small amounts in a larger area…the same isn't true going the other direction!
Sheet pans are great for cooking veggies, fish, chicken, and other meats as well as cookies, cakes, and more. You'll want a nice half sheet pan to make your favorite items in the oven! Sheet pans can even take the place of casserole dishes in some cases so if you have to pick and choose sheet pans are certainly a versatile option!
A strainer is a must if you like making pasta, washing veggies or fruit, and so much more. You don't realize you need one until there isn't one available! Make sure to grab a strainer or even an old school metal colander for all your kitchen needs. These space saving options are great because they fit right in a drawer. You can use them on any pot or mixing bowl!