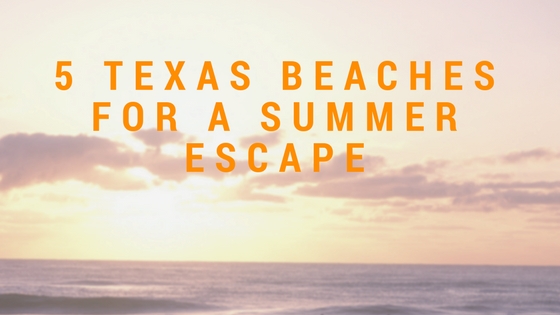 Dreaming of a summer escape? From arts and culture to sightseeing and ample opportunities to explore nature, there's certainly no shortage of things to do when discovering the Lone Star State's many beaches. Hit the shoreline and experience what these five Texas beaches have to offer this summer.
Drive time from Houston: 6 hours 12 minutes
Found on a barrier island on the coastal tip of Texas, this resort town is known calm emerald waters and beaches. The island is home to the South Padre Island Dolphin Research & Sealife Nature Center. Here, beach-goers can get up close to the native sealife with the center's touch tanks and boat tours. South Padre Island offers 34-miles of white sand beaches which provide a multitude of opportunities for fishing and birding, which means a set of binoculars and a tackle box should be on your packing list.
Drive time from Humble: 1 hour 44 minutes
Located in Galveston County on the Bolivar Peninsula, Crystal Beach is one of Texas' best beach getaways. Travelers can access the beach from Galveston via the ferry or drive from Highway 87 to experience fresh seafood, nightlife, shopping and more. Golfers will especially love hitting the links at the Rancho Carribe Golf Course, a 9-hole course designed by PGA pro Robby Sharpless. Don't forget to pack your golf clubs!
Drive time from Baytown: 3 hours 32 minutes
This family-friendly Texas beach not only boasts waterparks and amusement parks, it is home to the South Texas Botanical Garden and Nature Center, The Texas State Aquarium and the famous U.S.S. Lexington, a WWII naval aircraft carrier. Be sure to bring along a swimsuit for those waterparks and say hi to the river otters and sea turtles that take up residence in Corpus Christi for us!
Drive time from Katy: 1 hour 23 minutes
A quick drive from Katy and the Houston area, Galveston Island is the nearest island escape four Houstonians. Galveston Island is home to Schlitterbahn, which has the tallest rollercoaster in the world at its park. If your beach vacation is more about relaxing, than seeking thrills, lay out your beach towel at Seawall Beach. The beach just recently underwent a $20 million makeover and has long been a hotspot for sun soakers. Galveston travel experts suggest finding your spot in the sun between 8:30 and 9am, as this gives you plenty of time to enjoy the cool beach breeze before the crowds roll in. Don't forget the sunscreen!
Drive time from Houston: 4 hours 7 minutes
This beach oasis has been dubbed "The Fishing Capital of Texas." And for good reason, too. Port Aransas, Texas offers opportunity for every type of angler. Visitors to Port Aransas can cast their lines in the bay or shallow water for trout, flounder, black drum and redfish are commonly hooked or anglers can launch out for a private chartered deep sea excursion where the catch is much bigger, think kingfish, marlin and tuna. There are a handful of restaurants in Port Aransas that will even prepare your catch or cook it up for dinner. It doesn't get much fresher than that!