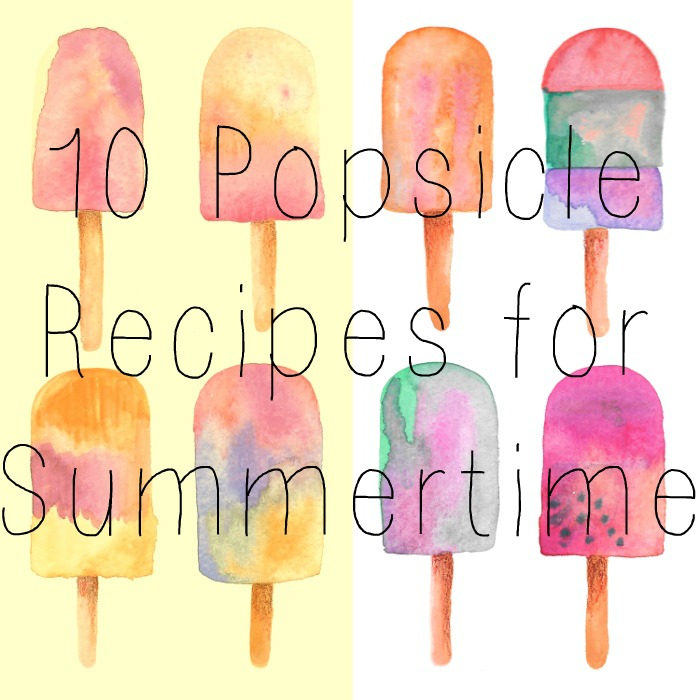 As Summer heat rolls in, cool down with some frozen treats. One of our favorite summertime pastimes includes enjoying popsicles in the sunshine. Instead of buying the boring boxed variety, why not make your own popsicles at home? You can make some delicious popsicles at home using some surprising (and yummy) ingredients you might already have at home. These are 10 popsicle recipes for summertime that you must try!

One of my favorite sweet beverages is horchata, so I was over the moon when I found this easy (and delicious) recipe for Horchata pops. It is a a frozen, sweet, cinnamon spiced popsicle perfect for summertime. Get the recipe from Real Simple.

Verses From My Kitchen has a yummy recipe for raspberry and white cherry yogurt pops that are creamy, simple and easy to make. They're fruity and have the right balance of sweetness and tart. You'll love them!

Real Simple has a yummy, adults only popsicle that combines the sweetness of vanilla, the tang of apricot and savory bourbon.

For those of you with a serious sweet tooth, you'll love these chocolate filled oreo and nutella popsicles from Little Inspiration.

If you love root beer floats, you'll love this frozen version of the popular beverage by Food52. It is a twist on a summer classic that kids and adults will love.

Bakers Royale has a sweet, frozen treat for the over 21 crowd with these watermelon and blackberry margarita popsicles. They're sweet, tangy and a little bit tart. They are perfect for a poolside retreat.

If you prefer a lighter popsicle flavor, check out these delightful coconut cater pineapple popsicles from Boulder Locavore. They are a perfect, refreshing frozen treat to cool you down when the weather heats up.

Garlic My Soul is bringing one of our favorite childhood deserts, funfetti cake, and is transforming into a frozen treat! Make these one summer afternoon with the kiddos for a fun activity together and enjoy the final product!

Another popsicle favorite comes from Fork Knife Swoon for creamy coconut and blood orange popsicles. They have the right balance of fruitiness and creaminess. Plus, the pairing of coconut and blood orange is near perfect!

Iced Coffee is already a cool summer beverage, so why not try it in the form of a popsicle? We love the idea and The View From Great Island has an easy recipe for you to follow at home!
There you have it! These are our favorite popsicle recipes that will refresh you this summer! What do you think? What flavors are you most excited to try? Let us know in the comment section below! Share your favorite popsicle recipes with us – we want to hear from you! As always, stay tuned to our blog for all things eat, shop and play.
Images Via: 1 / 2 / 3 / 4 / 5 / 6 / 7 / 8 / 9 / 10 / 11