St Patricks day is more than just a goofy holiday where we dress in green and drink our body weight in beers! There's nothing wrong with that, we're showing you the best St Patricks day parties in Houston so you can get your Irish on this year. We're also going to take a look at some of the common misconceptions about Saint Patrick and the holiday that took his namesake!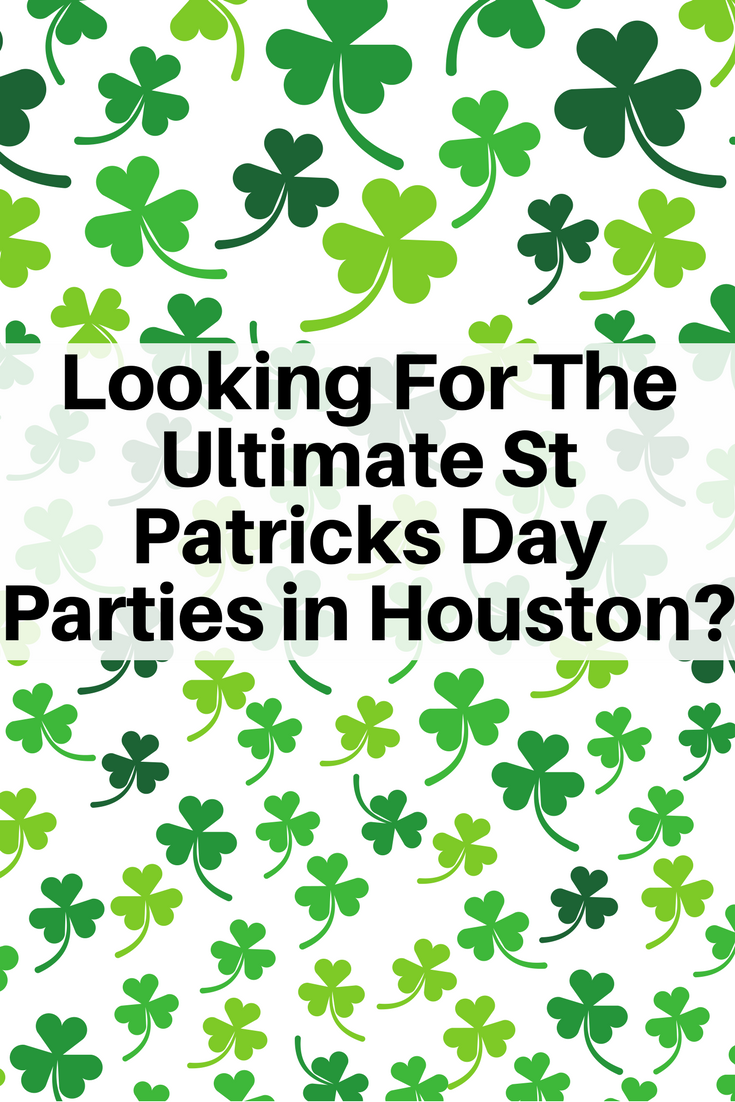 St Patricks Day Background:
There are a lot of common misconceptions about St Patricks Day! Hold on to your big green hat because some of these might surprise you.
Saint Patrick wasn't Irish…in fact, he was English and likely of Roman (Italian) heritage.
The green you see everywhere? Doesn't come from Saint Patrick. Many of the historical pieces associated with him were actually a vibrant blue color! The green likely comes from the incorporation of the shamrock in his teachings.
Saint Patrick was not a party hard leprechaun…he was a missionary and a bishop! He didn't actually bring catholicism to Ireland.
We can't talk about St Patricks Day without talking about the snakes right? Saint Patrick didn't drive the snakes out of Ireland. The climate in Ireland is not exactly pleasant and warm, snakes were probably not very prevalent in the region because it wasn't a hospitable climate for their sun loving nature.
One thing we did right was the storytelling and the legend. Irish tradition relies heavily on story telling and legends and this holiday has become nothing if not legendary!
St Patricks day is now celebrated in more countries around the world than any other national festival, not surprising since it is one of the most fun holidays of the year 🙂 Enjoy these great St Patricks day parties in Houston. We hope you have a safe and happy holiday. All of these parties, pubs, and celebrations are located near our MCLife communities so that you can easily take an Uber, hitch a ride with friends, or take public transportation to avoid driving if you are drinking!
Looking For The Ultimate St Patricks Day Parties in Houston?
O'Neals Pub & Sports Bar
1201 N Alexander Dr Baytown, TX
281-428-0132
Website Here
This should be a fun bash filled with great food, good music, and awesome drinks. They have specials lined up and a DJ ready to go so put on your dancing shoes and your green gear and head out to O'Neals Pub for some St Patricks day party fun in Houston!
Shamrocks Pub
228 1st St E, Humble, TX 77338
(281) 446-0407
Website Here
Shamrocks Pub has it all in the name! It's a hopping bar that everyone loves on a regular day…on a St Patricks Day Saturday night?! Watch out! It's always a fun St Patricks day celebration and this year it will be extra special because it is on a Saturday! They always have specials and events lined up for the big day, check out their social media and website for more information!
St. Patrick's Day Festival 2018 – Downtown
Sat, Mar 17, 2018, 8:00 AM –
Sun, Mar 18, 2018, 2:00 AM
Lucky's Pub – Downtown
801 Saint Emanuel Street
Houston, TX 77003
Website and Tickets Here
This will be an epic day filled with green beer, green performers, and tons of food from a variety of vendors. This yearly event is always a fun time and you can't miss out on this epic party! Check out their website for ticket info and more!